5 Things to Love About this Leave-In Conditioner and Detangler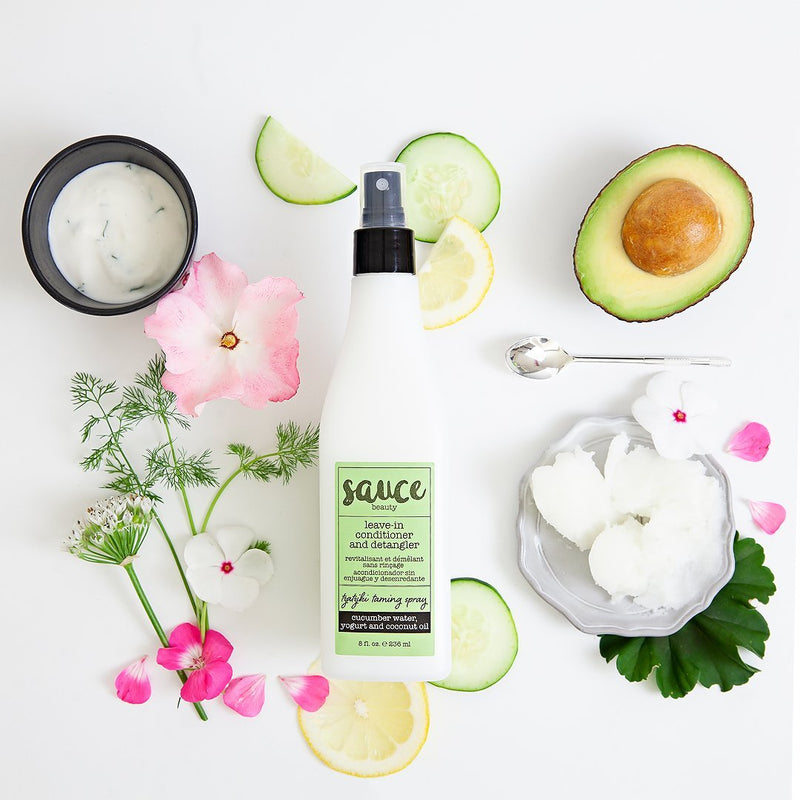 Here's some food for thought: The same ingredients used to make a healthy tzatziki dip—cucumber, yogurt, oil—also make a nutritious conditioning leave-in treatment for your hair. Here, five reasons why
Sauce Beauty's Leave-In Conditioner and Detangler Tzatziki Taming Spray
will satisfy your craving for gorgeous, smooth, healthy hair.
I. t's a time-saver.
Got a lot on your plate? People with fine hair can sub the Sauce Beauty's Leave-In Conditioner and Detangler Tzatziki Taming Spray for their regular conditioner, shaving time off their morning hair routine. (If you're hair is on the thicker/courser side, use your normal conditioner in the shower and then spritz on the Leave-In Conditioner Detangler after towel drying your hair.)
2. It tames flyaways.
Rogue hairs are caused by hair breakage (you can thank your curling iron or flat iron for that) or static electricity. Static occurs mostly in the winter, when there's little moisture in the air, and is the result of two different objects rubbing together and swapping electrons (like your hair coming into contact with your winter hat). Either way, the best way to smooth flyaways is to use a product that contains polyquaternium-10 (the Sauce Beauty's Leave-In Conditioner and Detangler Tzatziki Taming Spray has plenty of it). This ingredient reduces static electricity and also improves the texture of heat-damaged hair.
3. It prevents hair damage.
It's bursting with antioxidant- and fatty-acid rich coconut oil. Considered a superfood, this oil is now making its way into haircare products because it's been shown to prevent damage. Researchers in India compared mineral oil, vegetable oil (they chose sunflower oil for the purposes of the study), and coconut oil to find out which type of oil is best able to reduce hair damage. They found that only coconut oil is able to penetrate the hair shaft to put the breaks on protein loss in both damaged and undamaged hair.
4. It boosts strand strength.
Nutritionists recommend yogurt to clients because it's packed with protein; hair experts recommend yogurt for the same reason: Yogurt, a key ingredient in the Leave-In Conditioner and Detangler Tzatziki Taming Spray, contains amino acids (the building blocks of proteins) which help beef up weak, damaged strands. The creamy breakfast staple also contains fat, which moisturizes and nourishes your hair, plus lactic acid, which clears away dead skin cells on the scalp and unblocks hair follicles.
5. It smooths.
According to the Cleveland Clinic, cucumbers are made up of 95 percent water, making them effective hydrators—and the more hydrated hair is, the easier it is to comb and the less likely it is to break off. Sauce Beauty Leave-In Conditioner and Detangler Tzatziki Taming Spray combines cucumber with other moisturizing ingredients like yogurt (see above), silk amino acids, propylene glycol (a humectant that protects against humidity, reducing frizz), and cetearyl alcohol (a hair-healthy type of fatty alcohol that acts as an emollient, softening and detangling hair) to make hair smooth and shiny. Now that's a recipe for success.