The Best Conditioner for Normal Hair
This is the Everyday Conditioner Your Hair Craves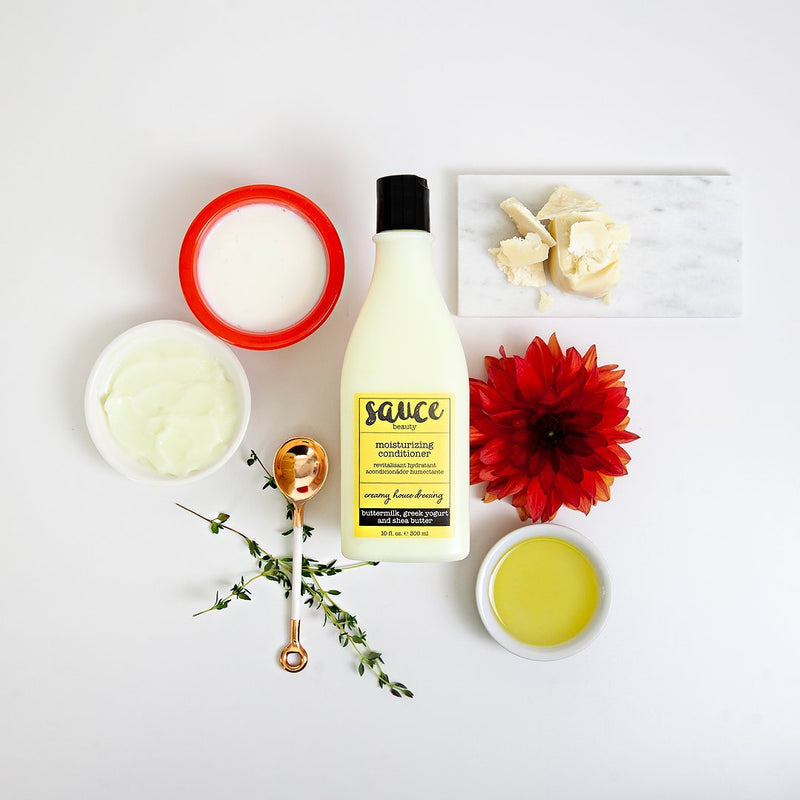 We're going to guess that you've never compared your hair to a salad (after all, why would you?), but, really, it's a pretty perfect analogy. Think about it: Your strands are delicate like bits of lettuce, and you want them to look fresh and, well, pretty. The products you put on top, like your daily conditioner, are like dressing. Your salad needs dressing (it would be pretty bland without it), but add too much and your lettuce starts to wilt. It looks wet and lifeless. It's the same with hair. Your hair needs conditioner, but if the formula is too heavy or too rich, you may end up with greasy, limp strands.
Enter our new daily conditioner, Creamy House Dressing Moisturizing Conditioner. Its one-of-a-kind formula is designed to soften and hydrate hair without weighing it down, like the ultimate salad dressing. Here's why you'll want to top your strands with this daily conditioner.
What's in the daily conditioning formula?
You'll find some ingredients you'd expect to taste in a delicious, creamy dressing such as buttermilk and Greek yogurt. Both offer intense hydration without feeling heavy on your hair. The conditioner also contains Shea butter to soften and smooth strands. It's rich in the healthy fats your hair needs to stay healthy and retain hydration. To round out the moisturizing mix, panthenol, a derivative of vitamin B5, works like a humectant, drawing moisture deep within your hair strand so hair is strong, shiny, and conditioned.
Why we love it?
The Creamy House Dressing Moisturizing Conditioner feels like a decadent treatment for your hair, but it's light enough to use every day. Bonus! It also smells yummy with hints of sweet honey, coconut, whipped buttermilk, vanilla yogurt, and cozy musk. So, every time you use it, it's like a little luxury for your strands.
Who it's best for?
This conditioner is ideal for those with normal hair—that's hair that is not too dry, not processed or highly damaged. It's light-weight formula also makes it the best daily conditioner for those with fine strands who tend to stay away from heavier conditioners that can make hair feel greasy, or weighed down.