Island Marinating Moisturizing Shampoo
The Secret to Healthy, Shiny Hair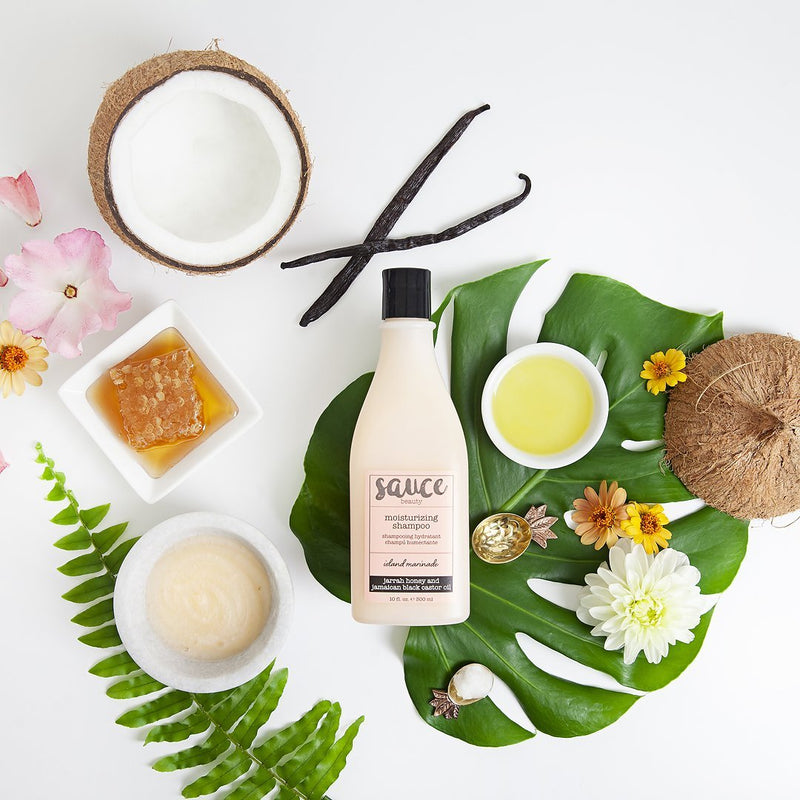 Just as a marinade is a no-fail way to prepare a delicious dish, the Island Marinade Moisturizing Shampoo is the necessary prep-work to getting gorgeous, shiny hair. As you lather up, your hair soaks up the key ingredients to make it hydrated and healthy.
Like other products in the Sauce Beauty lineup, the Island Marinade Moisturizing Shampoo was inspired by food and delectable recipes you'd cook up in your kitchen. But it's not just a fun concept, the cherry-picked ingredients have amazing benefits for your scalp and hair, too.
So, what's in (and what's not) this particular bottle of sauce? Here, we breakdown the key ingredients and scents that will transform your dull, dry, and frizzy strands into soft, supple, shiny hair. (Plus, the key things your hair doesn't need or want.)
The recipe for shiny hair:
Jarrah Honey: This sweet stuff comes from the Jarrah tree in Australia, a flowering tree that is a haven for honey-producing bees. This specific type of liquid gold is getting big buzz lately for being antioxidant-rich and super-hydrating for hair.
Jamaican Black Castor Oil: To get this nutrient-rich oil, castor beans are roasted and pressed. It's chockful of omega-9 fatty acids, which are highly moisturizing for both your hair and scalp.
Macadamia and Monoi Oils: Macadamia oil comes from the macadamia nut (which, by the way, is actually a seed), while monoi oil comes from Tahitian gardenias steeped in coconut oil. Both of these hair-nourishing oils smooth unruly, frizzy hair, and soften and add shine to dull strands—without weighing them down.
Glycerin: This skincare staple is known (and loved) for its ability to draw moisture deep into skin. It works similarly for hair and also helps tame frizz and define curls.
Panthenol: This derivative of vitamin B5 works to attract moisture from the atmosphere and gets it into your hair shaft.
The scent of shiny hair.
Just as it is with cooking, how your hair products smell is part of the appeal. The Island Marinade Moisturizing Shampoo is infused with a yummy mix of coconut milk, jasmine, Jarrah honey, patchouli, sandalwood, vanilla, and amber. Its aroma is sweet and warm, like comfort food for your strands.
What you don't want in your shampoo bottle.
Sometimes what's not included in a recipe is just as important as what is—just a pinch can change the flavor for the worse in an instant. It's the same in beauty formulations. Here's what you won't find in this shampoo:
Sulfates: These salt-based preservatives used in traditional shampoos can strip hair of its natural moisture (not to mention, hair dye). The Island Marinade Moisturizing Shampoo effectively cleanses without them and is safe for color-treated hair.
Parabens: You won't find these controversial preservatives in any Sauce Beauty product. But you will find safe and effective preservatives to keep your shampoo fresh and safe as it sits in your steamy shower.